Store Locator
Freewheel brings together the very best independent bike stores in the UK. Choose from our extensive range of bikes, cycle accessories and clothing then reserve online and collect from your nearest Authorised shop. The friendly and knowledgeable staff are on hand to help you collect your order and will be happy to answer any cycling questions you may have.
2 PEDALZ LTD
Choose you local Freewheel store for real time stock and easy click and reserve
2 PEDALZ LTD
Choose you local Freewheel store for real time stock and easy click and reserve
2 PEDALZ LTD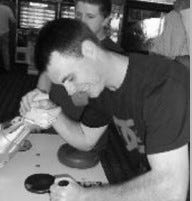 "Hi I'm Connor the store manager - let me introduce you to the team: Firstly is Paul (I'd better do him first as he is the owner).
He's the city commuter cyclist in the team (spells commuting London, Birmingham & Manchester), having cycled around 100 miles a week most years.
He is happiest on the phone or in store, helping customers work out the right bike for their needs, he's also the one up until 11pm answering your questions. He is a qualified bicycle mechanic, and an IT whiz (so keeps the computers running as well). Secondly there is me, known as our resident "stunt man" due to having misspent my youth practicing different cycling disciplines (BMX, Trials, Dirt Jumping, 4X, Downhill). Taking all my bikes apart, cleaning them after each event and putting them back together means I have a broad knowledge of bikes and components (and the importance of bikes being clean).

As a cytech trained mechanic, when it's busy you can find me assisting the workshop with builds and servicing as well as helping both on and off road customers, and of course running the store day to day. Sam is our full time Cytech qualified mechanic. Often seen early in the mornings and late in the afternoon covered in Lycra, he commutes in most days around 11 miles each way. A "black run" mountain biker, TT rider, Cyclocross rider and he often races at the MK Bowl (and yes he did win once – will he ever stop telling us!). Finally there is Will (part time) who is the trans-Africa cyclist in the team. Will left a career in the British Army and cycled from the UK to Cape Town with his brother.

He's the web SEO and social media writer in the team, If you need advice on long distance cycling tours, Will should have some ideas to help you with your plans. " Connor Ryan, Store Manager.
About the store
We are a bunch of bike fanatics who have over 50 years combined bike experience between us. More importantly, we are all experienced cyclists in different disciplines with a simple aim; to help people enjoy cycling by keeping them on two wheels safely and comfortably. We sell all types of bikes from £300 to +£3000, both in store and online but specialise in; • Road • Gravel road • Cross • Touring • Bespoke builds We are fanatical about our customer service and hopefully this shows on our reviews on Facebook, in fact we would recommend following us, (around 15,000 people do already) to get pictures of our best customer builds. We will talk through what you want your new bike to achieve for you and work out the best bike for your needs. We can do this in store, over the phone, by email or on Facebook messager. If you can't come to store (and over half of our customers don't) then we can hand deliver your bike, from our own van, fully built, anywhere in the UK – see our site for details. Our online opening times are: • 9am – 11pm every day • but we might be slower responding in the evening • email, web form, Facebook So get in touch to see how we can help
Store details
4 Rose Court
Olney
Buckinghamshire
MK46 4BY
United Kingdom
01234 240716
Opening hours
Monday
10.00-17.00
Tuesday
10.00-17.00
Wednesday
10.00-17.00
Thursday
10.00-17.00
Friday
10.00-17.00
Saturday
09.30-17.30
Sunday
11.00-16.00
(Winter by appointment only)
Bank Holidays
10.00-17.00
Store services
Service and Repair
Demo Bikes
Custom Builds
Cycle to Work
Workshop
Wheel Building
Finance Options